It was Halloween weekend and where better to spend the holiday than New York City!
A close friend of mine is a fitness blogger and lives in Manhattan so I flew out to visit her for some rare r&r!
I stayed in the super cool Ace Hotel in the flatiron district and quickly located a trendy little coffee shop to help combat mini jetlag! (Head to 'Toby's Estate' on 5th if youre in town and fussy with your coffee like I am!)
We had a couple of wonderful meals too. My friend Jane knew all the spots i would love! 'ABC kitchen' is like a farmhouse kitchen version of The Ivy Chelsea Garden and is connected to a fancy interior design store. We also visited JayZ's Italian restaurant 'Charlie Bird' which is famous for its quality wine list and inspiring Sommelier Brandon.
We had two nights out planned for Halloween. The first being at Le Bain, in The Standard Hotel! This is a very chic rooftop bar and club and we decided to go a little more fashion concious on our costumes. We created Deer and Stag costumes with sleek black clothing accessorised with tan fur, comedy Deer antlers and some sharp makeup!
The second night was Halloween itself and a huge parade pours through the Village which is super impressive and loads of fun! So many people in such a tight space so I didnt get any photos of the parade… i was too busy navigating the streets in ROLLESKATES! Yes, i had decided on an 80's Roller Skater for my second look with bright shiny blue clothes, short shorts, high socks and a crazy 80's perm! My ever fashionable friend Jane kept things a little more classy with another black outfit this time as a fierce Lioness!
A lot of hair was done this day in preparation! A teeny weeny 'chopstick' styler helped us achieve our huge manes of tight curls and certainly got a lot of attention on the streets of new york!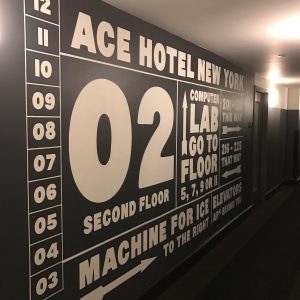 The following day, upon Jane's recommendation (and after two days of heavy facepaint had taken a toll on my skin) we visited a very innovative beauty clinic called 'Skin Laundry'. They work on the basis of short, yet effective facials forgoing the usual scrubs and massages and instead utilising hi-tech lasers and lights to purify, cleanse, resurface, brighten and tighten the skin! It only takes 20mins and it really made such a difference! I also found out they have a clinic in London's Liberty Department Store so I am super happy to be able to continue my treatments now i'm back home!
Overall it was a great mini break in one of my favourite cities! Jane and I had a LOT of fun and i think I shall make this trip for Halloween an annual tradition!