Day 1 – 15/10/16
I had the amazing job of working backstage at the fellowship for hair stage at Salon international.This was super great as I had to get the hairdressers miked up for stage and cue their models on, I got to see lots of fab looks for autumn winter. Saturday Night I met Billi & Mimi from the salon and we went off to watch 'Noise' this is an event that happens all around the world now after 1st showcasing in London, its very alternative with artists from the UK & Europe, we really got to see Hair & Art working together, very inspiring.
Day 2 16-10-16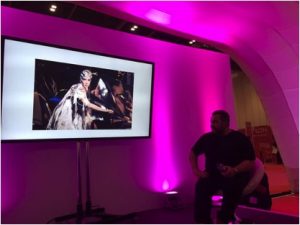 I had a chance to look around the show, I went and watched an interview with my friend the session hairdresser Tyler Johnston and heard all about his rise to fame after cutting David Beckham's hair. We then went on together to meet the Billi Currie team at the Novel theatre for the Tribute show, this is one of our favourite outings as a team. We always hire boxes looking right over the stage to see 5 Masters show case there work, it's fun & educational at the same time.  
Day 3 17-10-16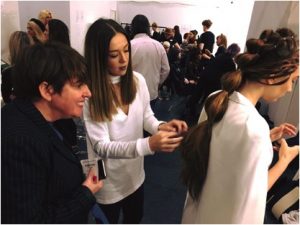 An 8am I started prepping with the step up and shine hair competition winner Evangeline Barrett, who I have the pleasure of mentoring until April 2017.  This was Evangeline and my turn to take to the fellowship stage and share how she won this amazing competition (£2,500 won to spend on hair education. We had a little stress prepping for our 10am performance, in the end we did Fab. I spent the rest of the day judging the fellowship fame team competition alongside some award winning hairdressers including the X Factor resident hairdresser.
it's always great to be in such esteemed company.
All in all an amazing weekend finished of with a lovely glass of champagne with Team Billi Currie at the Radio bar in the Me hotel, well deserved!
Debbie Currie
WWW.BILLICURRIE.COM